TIM HAWKINS LIVE IN CONCERT SUNDAY, OCTOBER 29TH - 7pm Looking for a night of laughs and good times? Then get ready for Tim Hawkins' fall tour! INSIDER FAN APPRECIATION DISCOUNT: Save 20% by entering the code "INSIDER" (not valid on VIP, Early Entry or Group tickets) LAST, BUT NOT LEAST, purchase your tickets here:
https://bit.ly/3KcNGcC



SUMMER THEATRE CAMP: WINNIE THE POOH June 5-9 and June 12-16 Performance: June 16 @ 7pm Cyclone Theatre will host their 3rd annual Children's Theatre Camp this summer at The Center for the Arts.  This year's production will be Disney's Winnie the Pooh Kids!  Campers will audition, rehearse, build their set, design costumes, and put on an incredible production.  This is an opportunity your child won't want to miss!  Space is limited.... Register your camper today! Camp Tuition: $200
www.russellvillecenter.net

Cyclone Theatre's spring musical Anything Goes opens tonight at The Center for the Arts at 7pm. The show runs April 28 & 29 at 7pm and on Sunday, April 30th at 2pm. Hope to SEA you there! Tickets are available online at
http://tcfta.booktix.com/

Cyclone Theatre presents their spring show Anything Goes next weekend! Grab your tickets online and avoid lines at the box office!
www.russellvillecenter.net

WHIRLWIND THEATRE PRESENTS: A LIGHTER SHADE OF NOIR MARCH 16 & 17 7PM Trent Trowel is your typical gumshoe. Searching the mean streets for crimes to solve and dames to fall for. He joins some of the world's most famous detectives at the International PD gala. There's Shirley Holmes, Jean Louie Phillip Eustache… and Aunt Beatrice. But is this just an innocent gala? Will the world's most dastardly villains foil them with a fiendish master plan? Will Aunt Beatrice ever get an English muffin? Everything is not what it seems. A fabulously funny and high styling take on film noir - it's a lighter shade of noir after all! TICKETS ON SALE NOW! PURCHASE YOURS at http:/tcfta.booktix.com/!

Christmas Concerts are in full swing at The Center for the Arts!

On a Winter's Night is returning to The Center for the Arts this weekend! The River Valley's rock Christmas spectacular will take place at 7 PM, tonight, November 12th and 2 PM, November 13. Come join an amazing lineup of musicians as they perform the music of Trans-Siberian Orchestra, Wizards of Winter, Symphony North, and several other artists. The show will include an amazing light and video show.

Russellville High School invites veterans and their families to join us for our annual celebration to honor all who have served this Friday, November 11th. Breakfast will be served in the lobby of The Center for the Arts beginning at 8:00am for veterans and their families. RHS students will celebrate the service of our armed forces in an Assembly at 9:00am. Tickets are not required for this event.

The Todd Tilghman Concert, sponsored by Restoration Conferences, that was scheduled for Thursday, August 25th has been canceled. Refunds are being processed at this time.

Please join us on Thursday, April 14th at 11:30am at The Center for the Arts as we celebrate our 10th Anniversary with the Russellville Chamber of Commerce, RSD School Board and The Center for the Arts Foundation Board of Directors. We would love to see students, parents, educators, and community members celebrate this milestone with us!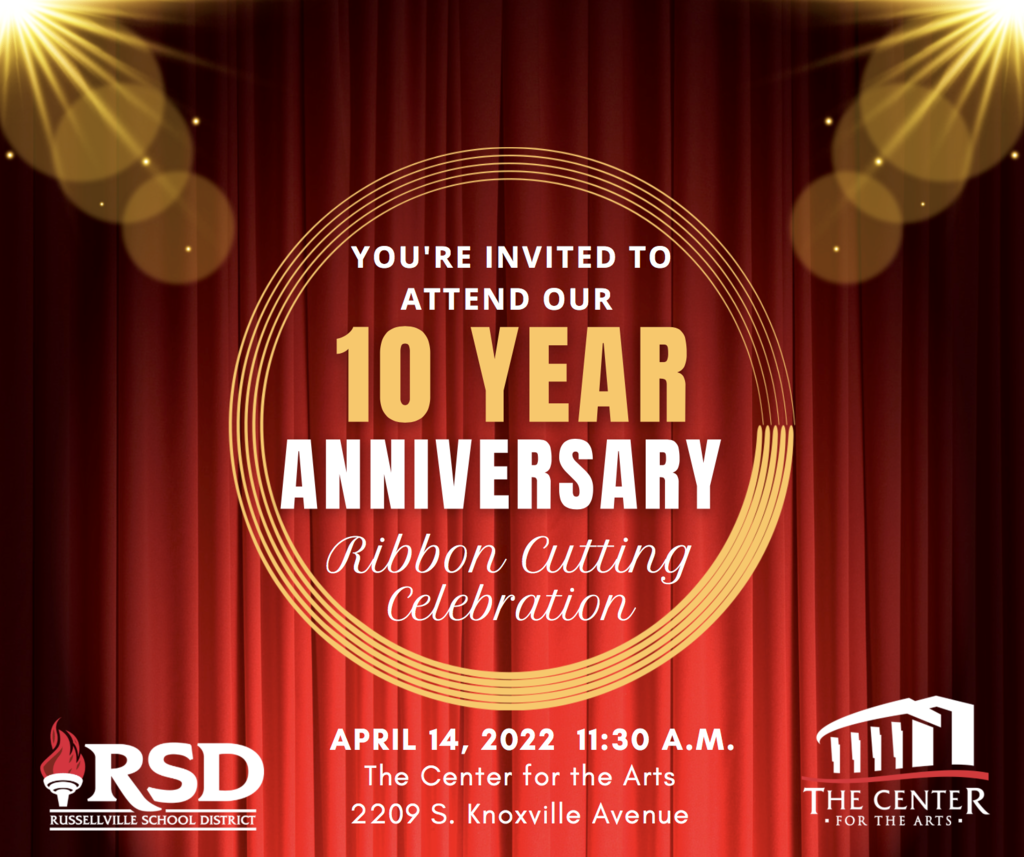 Catapult: Magic Shadows as seen on America's Got Talent will be live next Tuesday, October 5th @ 7:00pm at The Center for the Arts. Purchase your tickets online at
http://tcfta.booktix.com/
. General admission $10 / RSD students admitted FREE with purchase of adult ticket.

The Center for the Arts Foundation is hosting a reception to honor the contribution H.L. & Barbara Shepherd made to the music program in the Russellville School District. An art piece was recently commissioned and completed in the lobby by local artist, Winston Taylor. You are invited to join us this Sunday, September 12th, from 2-4pm. Special remarks will be made at 3:00pm.

We just wanted to let you know about the upcoming Awakening Events Labor Day Flash Sale! Fans can use the code INSIDER to save 20% on all remaining Zach Williams Christmas Tour tickets until Sept 6 11:59 PM CT. Purchase your tickets here -->
https://www.etix.com/ticket/p/4696216/?partner_id=3087


These Disney villains can't believe there is just one more chance for you to see Descendants: The Musical at The Center! Purchase your tickets at
http://tcfta.booktix.com/
for the final performance, Sunday, 6/27 at 2:00pm.